---

Booant batteries are an efficient, long-life energy source.
Thanks to their enormous mileage, long service life and intelligent battery management system. 

Product Name: Lithium iron phosphate cell
Shell Material:Plastic
Rated capacity:200Ah
Minimum capacity:(180AH-190AH)
Internal impedance:0.2~0.5mΩ
Nominal voltage:3.2V
Recommend Constant Current:200A(1C)
End-of-Discharge Voltage:2.5V
Recommend Constant Current:100A(0.5C)

Charge Voltage:3.65V
Maximum Pulse Discharging Current:400A(3min)
Maximum Pulse Discharging Current:600A(30S)
Charge Voltage:3.65V
Max Continuous Discharge Current:200A(1C)

Cycle life :4000 cycles
Charging Temperature:-5~60°C
Discharging Temperature:-30~60°C"
Dimensions(L*W*H):183*72*280mm
Weight:5.6±0.10kg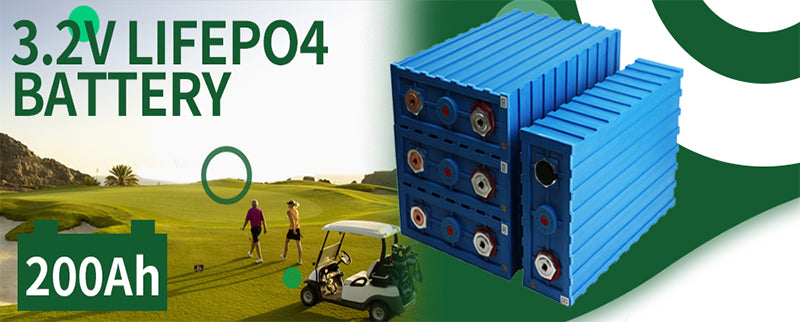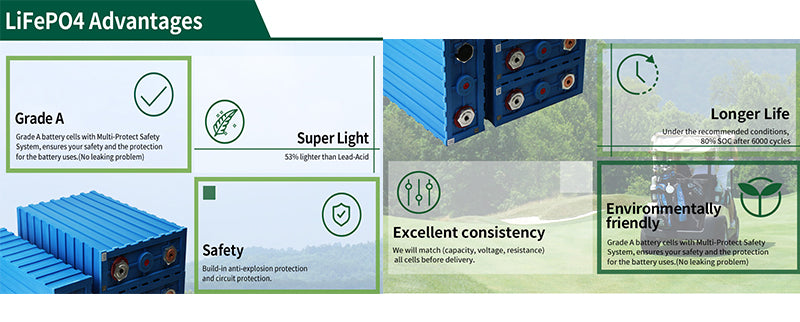 Before taking the order

Please read carefully all the description before taking orders, the battery is suitable for DIY lovers with experience, people who are not familiar with electronic, please go to our shop to buy the finished product. Those buyers who buy this battery, must agree that you are familiar with the safe use of lithium battery knowledge.
Reminder
DIY battery pack must get the cells balanced (same voltage ) before assembly. Later if there happens don't know how to assembled or unbalanced assembly is not accepted refund. please consider before taking orders, place order means you have agreed. thank you for your cooperation!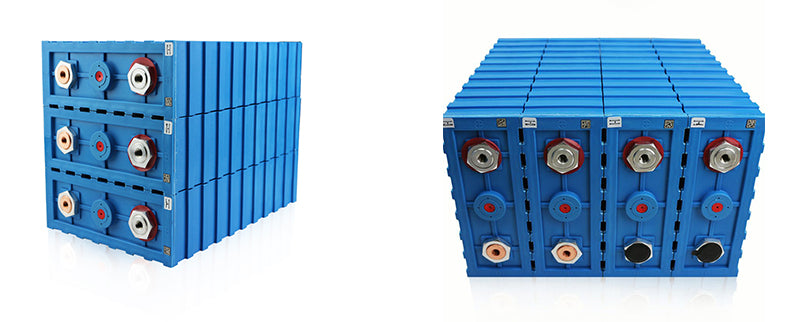 Professionals will detected voltage/resistance/appearance and other issues before every shipment, we can only ensure that the single battery is good, when arrival you can test the cells within 2-3 days, after that means batteries have no problem, does not provide return nor refund. If you found problems you can contact us for return or refund. Battery can only be unused (the electrode intact, no welding, no wear, the appearance good) to provide return. Any return behavior buyers need to be responsible for shipping fee.
Q:Does the sending battery include BusBar connector and screws?
Yes, add the product to the shopping cart, add the collection, we ship the battery with the BusBar connector and screws
Q:What is the life expectancy of a Lithium battery?
A: The typical estimated life of the Lithium Iron Phosphate (LiFePO4) battery is 5-15 years, or 2000 to 8000 charge cycles. One charge cycle is a period of use from fully charged, to fully discharged, and fully recharged again.
Q:If I want to solar charge LiFePO4/Lithium Ion battery, which already has PCB, would a normal controller work fine?
A: For LiFePO4 / Lithium Ion battery, we always recommend to use LiFePO4/Lithium Ion solar controller. Especially if you are using the battery as UPS (back up power supply). The Lead Acid solar controller will constantly provide pulse current to the battery, in the long run, it might damage the PCB. So the PCB won't be able to protect the battery when it should be..
Q:I am a distributor. Can I cooperate with battery warehouse for a long time?
A: Yes,Individual pricing for large scale projects and wholesale demands is available
Q:Is the cells I bought balanced?
A: we know the importance of maintaining the consistency of each cell in the battery pack, so we will match and balance all cells to ensure that the internal resistance, voltage and capacity of cells are completely matched and balanced before delivery. This process is very necessary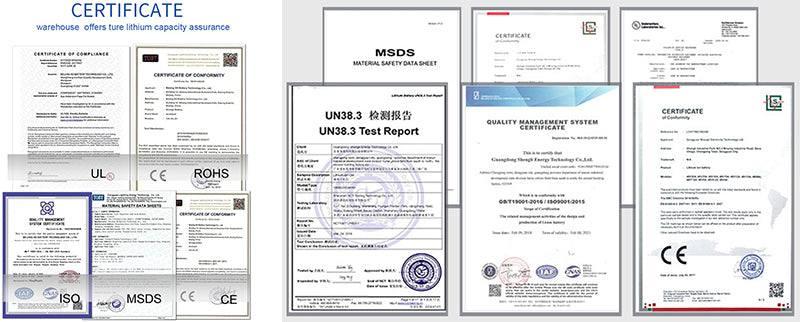 We provide a guarantee for manufacturing faults/defects of 12 months.This warranty does not cover negligence or misuse of the battery.

This warranty does not cover damage to the product caused by accidental submerging of the battery in any body of water (lake, stream, pond, or the ocean), leaving the battery exposed in the rain, overcurrent situations during either charging or discharging of the battery, abuse, neglect, improper use, unauthorized modification or tampering, improper maintenance, normal wear and tear, disposal in a fire, freezing, theft, accidental damage, or other forms of physical damage.

All products are checked for quality before being shipped out. If you purchased any items which appear to have a problem, please contact us. In most cases we are able to sort out the problem by providing technical support, without your sending anything back.

We also warrant all other complimentary products (inverters, converters, chargers etc) we sell are free from defect for 30 days from the date of purchase. After that time it is the responsibility of our manufacturing partners and a standard manufacturer's warranty applies (1 year from date of purchase, unless otherwise stated by the manufacturer).