---
BOOANT Battery Pack Mainly Use Original SAMSUNG, Panasonic, LG, Etc Cells.

The BOOANT Samsung 52V eBike Battery is built for durability and reliability.
With its 15AH battery, it provides a long-lasting charge suitable for 1000W motor e-bikes.
Enjoy an improved ride performance and a reliable battery lifespan.
Battery Model: 52V 15Ah
Nominal Voltage: 52V
Nominal Capacity: 15Ah
Cell Specification : Lithium 18650 3000mAh  3.7V Cell
Cell Brand:  SAMSUNG 30Q
Cell OverCharge Protection Voltage: 4.2V/Cell
Cell Overdischarge Protection Voltage: 2.8V/cell
Cell Combination: 14 Series 5 Paralles
Cell Quantity (parallel x series): 70 pcs
BMS: 20A(Can be customized)
20A BMS Suitable Motor: Less than 52V 1000W(MAX) Motor
Discharge Cutoff Voltage (V): 39.2V+/-0.5V
Charge Cutoff Voltage (V): 58.8V+/-0.5V
Rated Discharge Current (A): 15A
Maximum peak discharge current (A): 60A
Maximum Continuous Discharge Current (A): 20A
Charger mode: CC/CV
Standard Charge Current (A): 5A
Max Fast Charge Current (A): 20A
Charge Time under 5A Fast Charge Current: approx 3--4 hours
Battery Weight: about 3.5 kg
Battery Size: 270*100*70mm(+/-5mm)
Cycle life: ≥80% capacity after 1000 cycles.
Discharge Temperature: -20 to 65°C
Charge Temperature: 0 to 45°C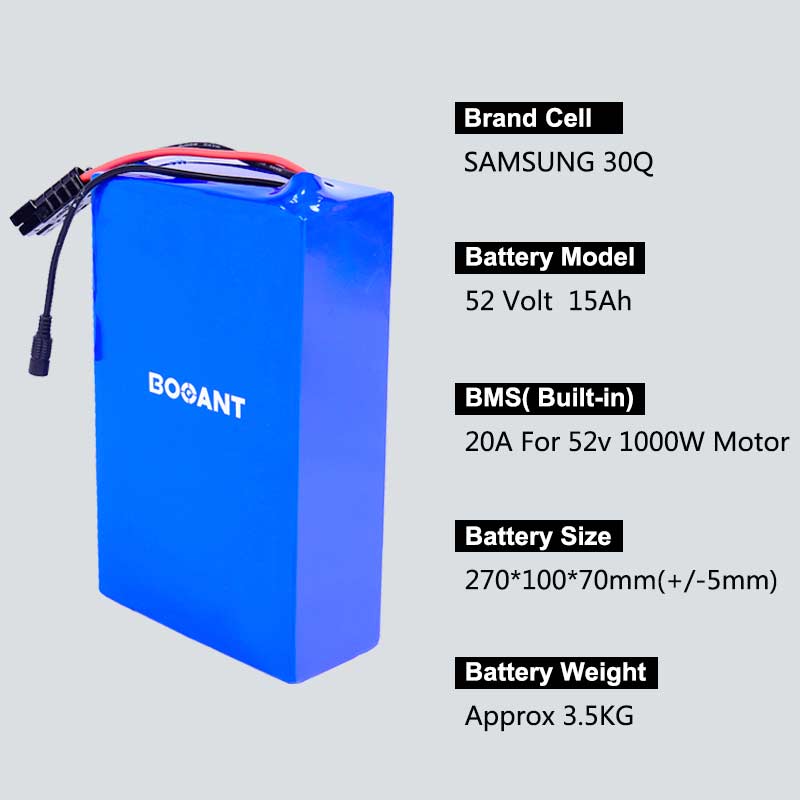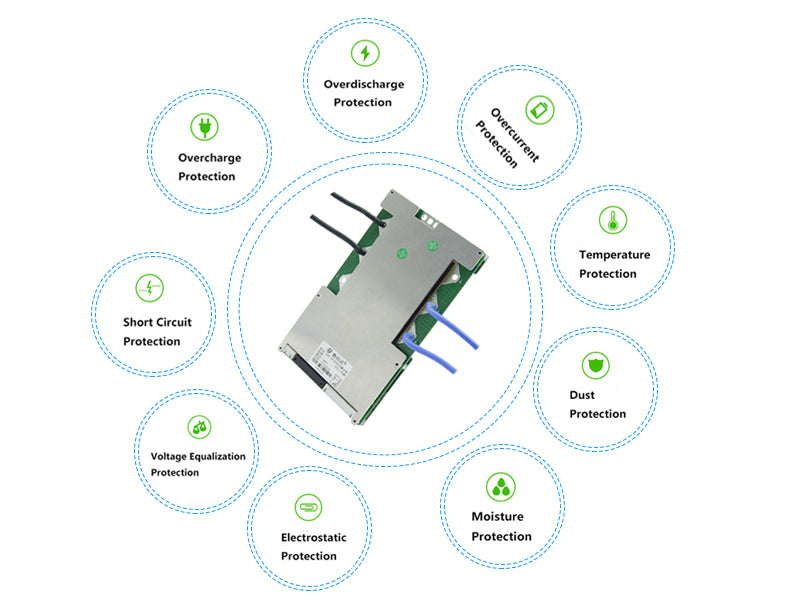 Regular BMS does not have communication functions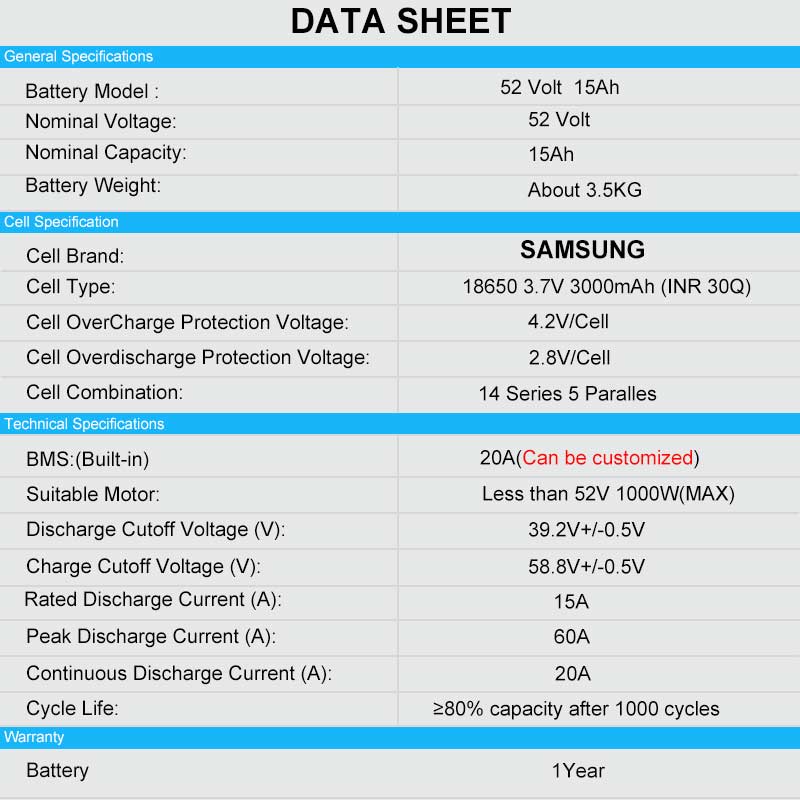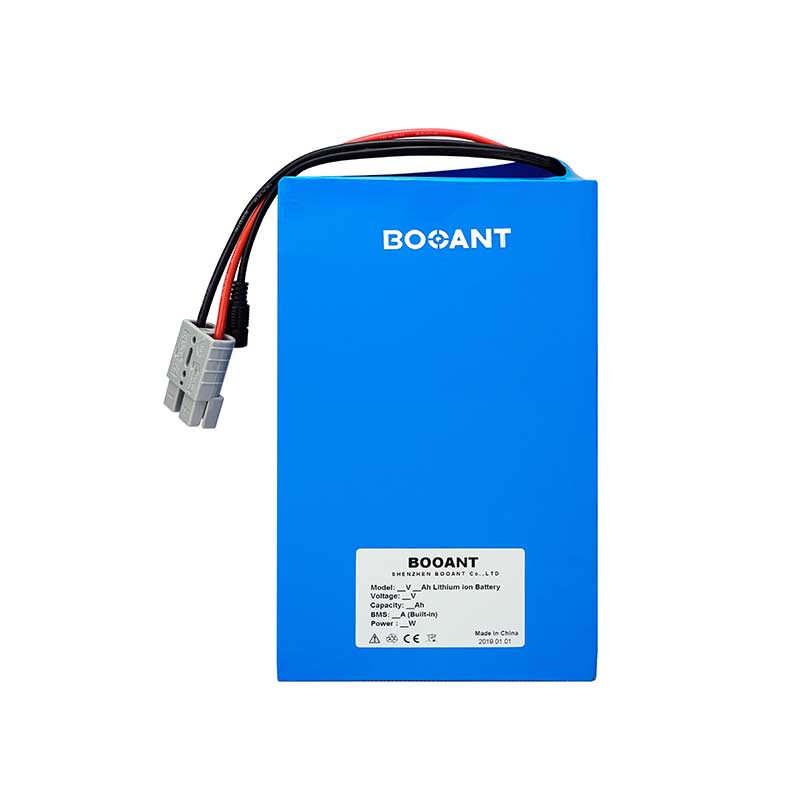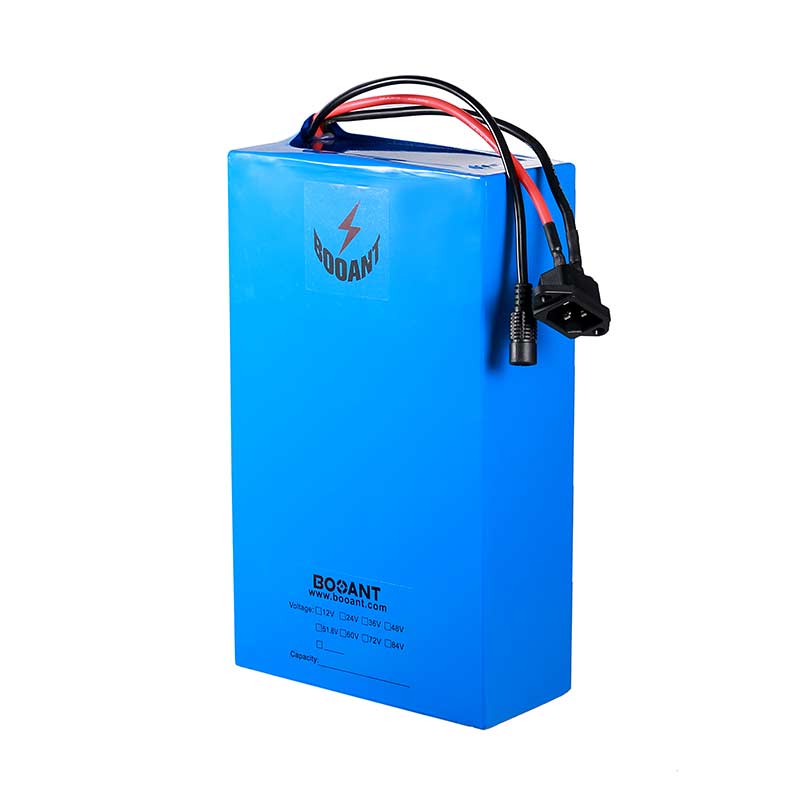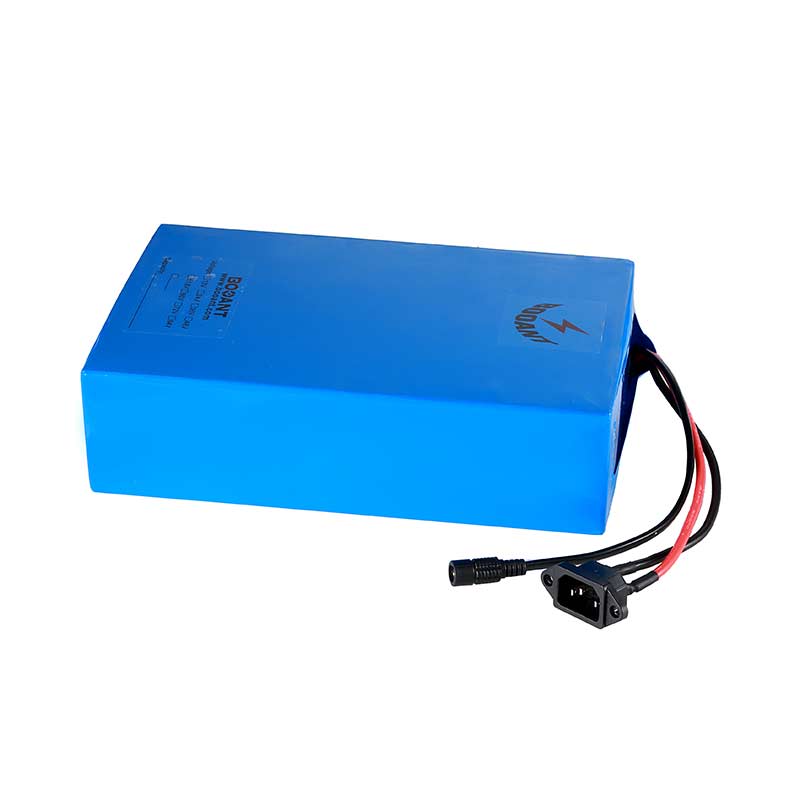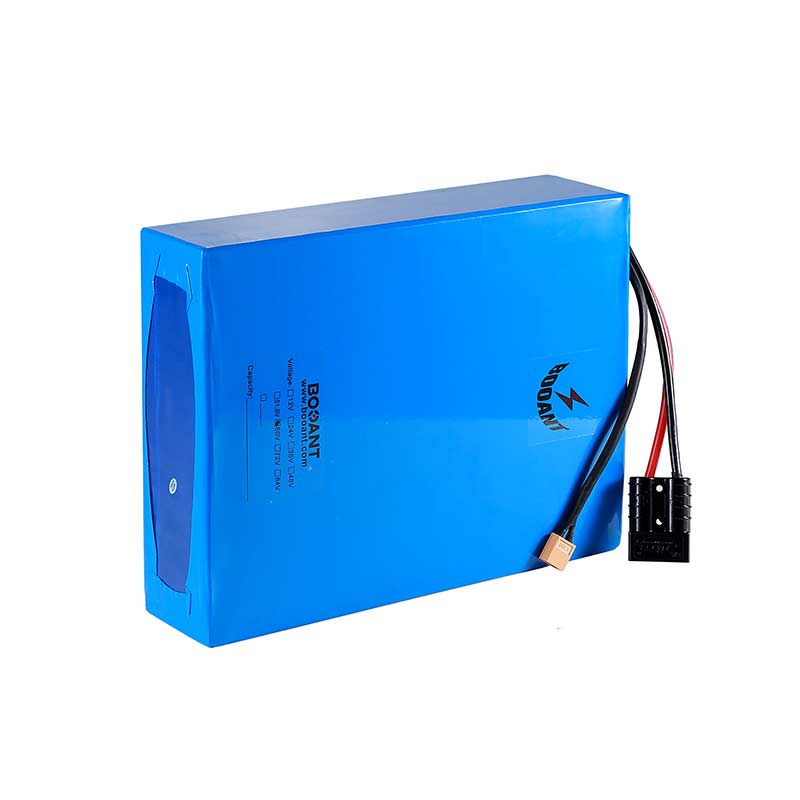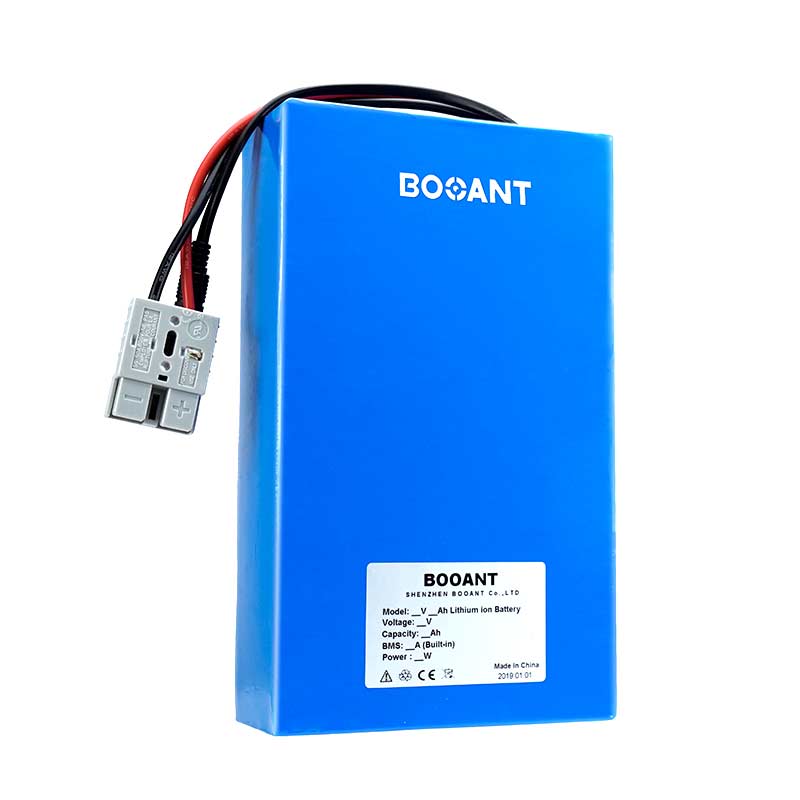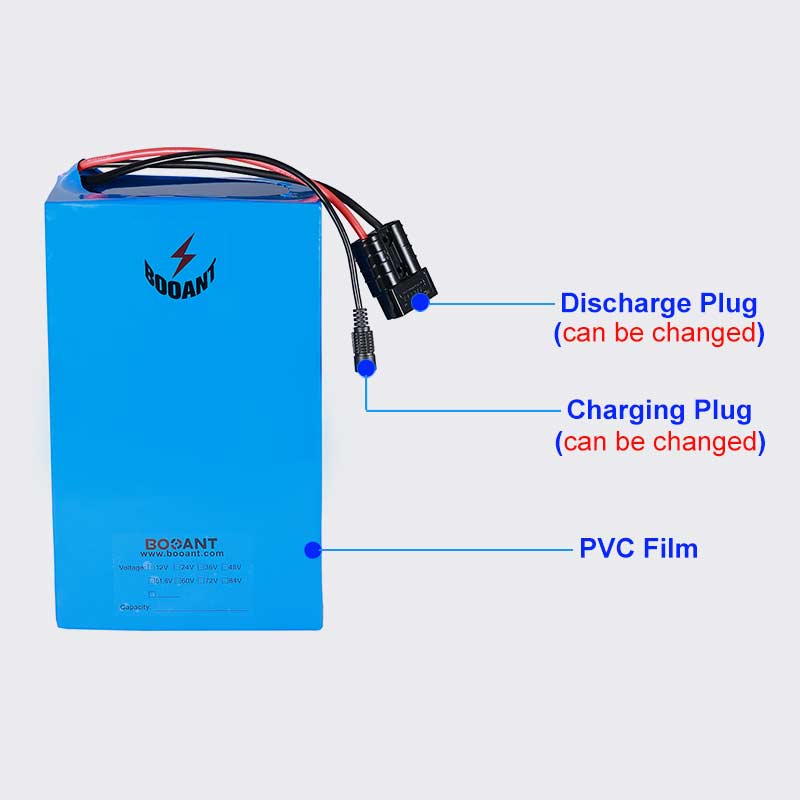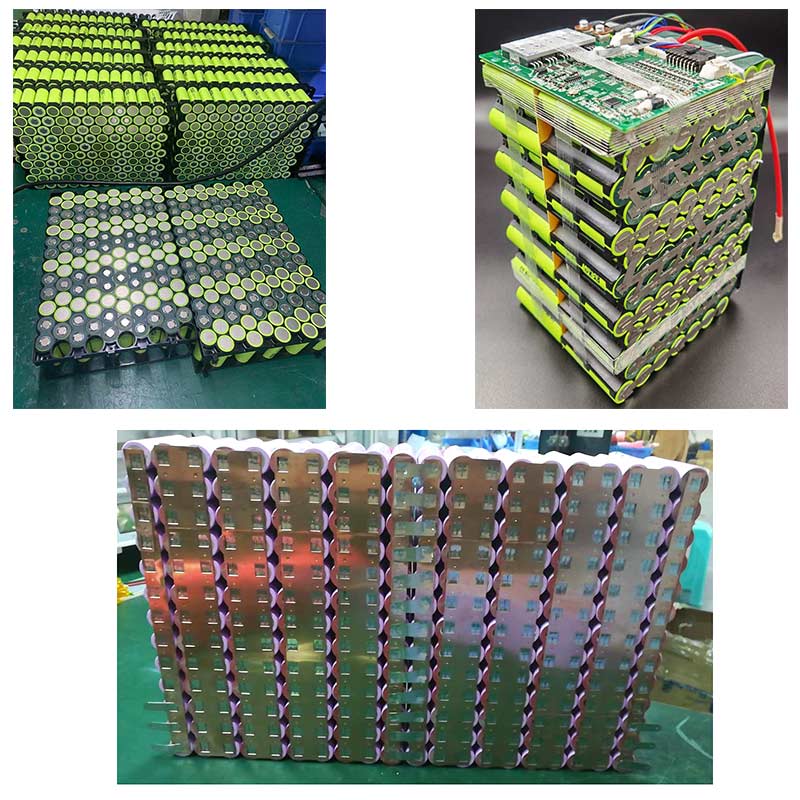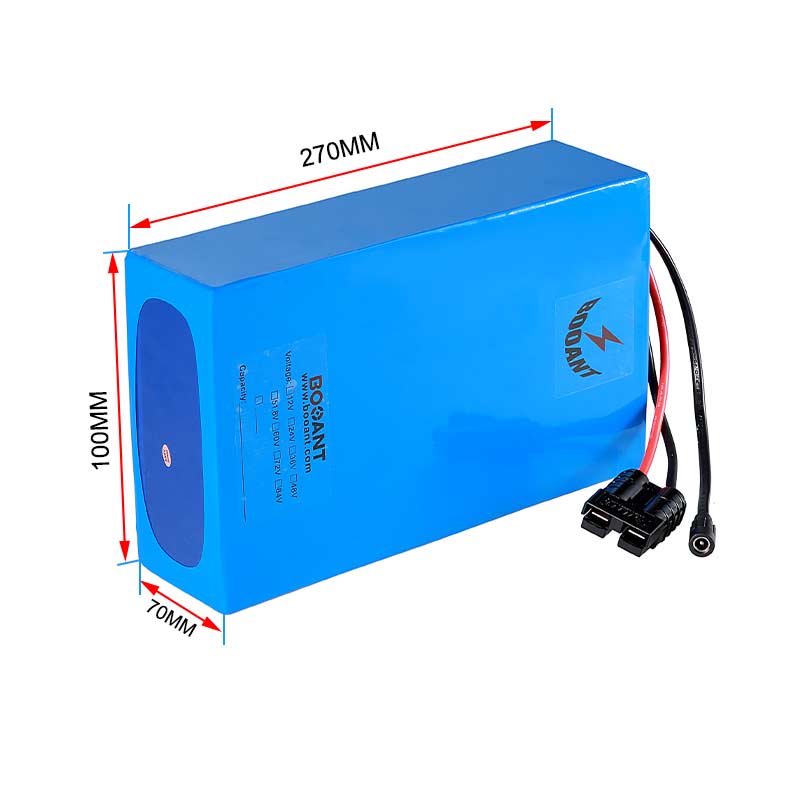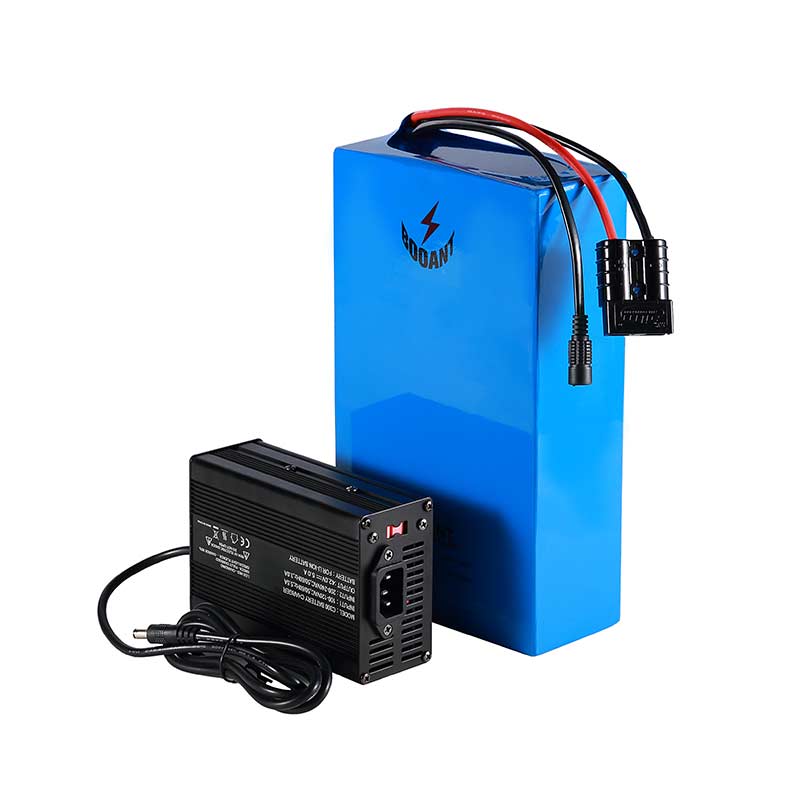 1. Battery Pack *1         
2. 58.8V 5A Charger *1       
3. AC Power Cable *1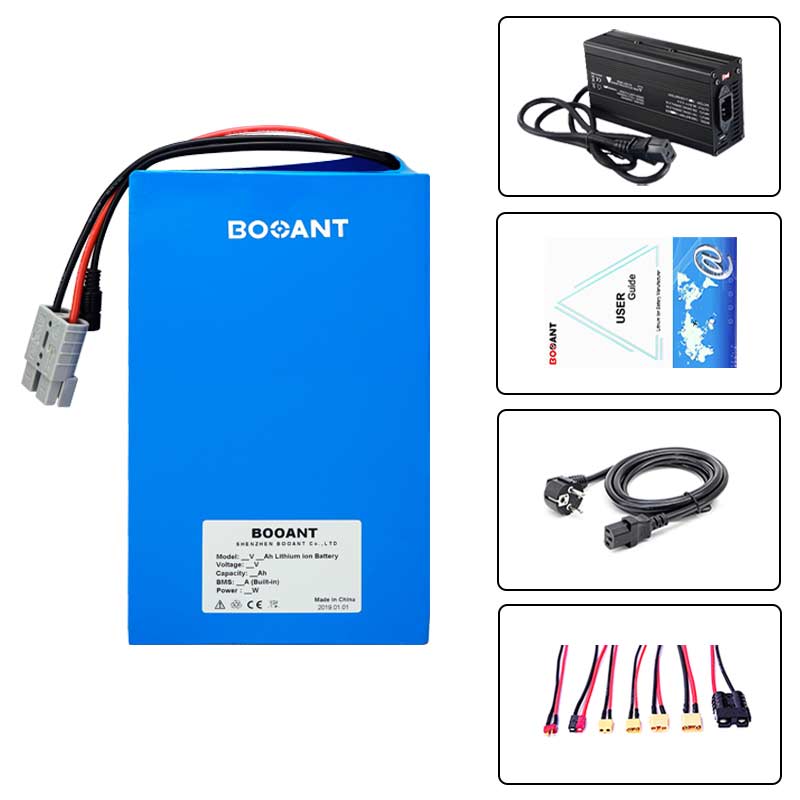 MEET DIFFERENT DISCHARGE PLUG OPTIONS : (Contact US)

APPROPRIATE AC POWER CABLES FOR DIFFERENT COUNTRIES :

BATTERY USAGE PRECAUTIONS : (IMPORTANT)
Don't hit, pierce, strike, trample or throw the battery.
Don't put the battery in the water, keep the battery cool and dry condition .
Don't put the battery near a heat source such as fire or heater.
Use the specified charger that come with the battery.
Don't reverse the position and negative pole.
Don't connect the positive and negative terminals with metal objects which would cause short circuit
Don't transport or store the battery with metal objects together , such as hairpins, necklaces, etc.
Everything you need to know about batteries are chargers from other manufacturers safe to use?
Booant chargers are adapted specifically to the Booant batteries Using a different charger may reduce the service life of the batteries or cause other damage or malfunctions in the eBike system.
Can Booant batteries be opened to replace individual cells?
Booant eBike batteries must never be opened – not even if they are being repaired by third parties. Opening the battery always means interfering with the condition approved by Booant and entails safety-related risks. once opened, may catch fire during assembly due to crushed or incorrectly routed cables, detached components or poor quality electrical connections.
After opening, the seal of the housing can no longer be guaranteed, so that the ingress of water or dust can lead to damage to the monitoring electronics (Battery Management System) or to the cells. 
For battery packs, we offer up to

 12 

months free warranty.
For Chargers, we provide up to

 6 

months free warranty.
If there is any problem with the battery under normal use, please contact us and we will have professionals to solve your problem.
If you need one kind of battery which can't find in our store, we also accept customization service for you, and supports OEM service.